Who is online?
In total there are
2
users online :: 0 Registered, 0 Hidden and 2 Guests
None
Most users ever online was
62
on 10th April 2015, 8:24 am
Latest topics
»
Hoping there May be a bit less rain on the garden !
by
FloBear
21st May 2018, 6:36 pm
»
What are you harvesting today?
by
FloBear
20th May 2018, 9:57 pm
»
Breadmaker recipes
by
FloBear
8th May 2018, 9:16 am
»
Hand Weeding Tool
by
FloBear
2nd May 2018, 5:03 pm
»
Gardening between the April showers
by
FloBear
30th April 2018, 8:52 am
»
What have I done in the workshop today?
by
Chilli-head
28th April 2018, 6:51 pm
»
Knitting in the round
by
FloBear
12th April 2018, 11:51 am
»
Anyone braving the garden in March ?
by
Chilli-head
1st April 2018, 10:21 pm
»
Seed swap anyone?
by
FloBear
15th March 2018, 3:56 pm
»
Waste collection consultation
by
Ploshkin
4th March 2018, 9:20 am
»
Hungry Birds
by
Dandelion
3rd March 2018, 9:49 pm
»
"Popular contents" newsletters
by
Dandelion
1st March 2018, 10:45 pm
»
It's now more difficult to dispose of plastic waste
by
Hairyloon
27th February 2018, 1:58 pm
»
What can *I* do ?
by
Chilli-head
27th February 2018, 11:59 am
»
New beginnings in the February garden.
by
Chilli-head
26th February 2018, 10:34 am
»
Chairs 4 & 5: The lath back / banister back
by
Ploshkin
19th February 2018, 9:39 am
»
Endangered crafts
by
Ploshkin
19th February 2018, 9:36 am
»
The gardener's yearbook
by
Chilli-head
1st February 2018, 10:38 am
»
Garden Organic
by
Dandelion
26th January 2018, 7:24 pm
»
New arrivals
by
Dandelion
23rd January 2018, 2:48 pm
Statistics
We have
633
registered users
The newest registered user is
SoberWatersRetreat
Our users have posted a total of
45488
messages in
2353
subjects
Donate to our Charity
The Homemade life supports Kiva - microloans for people in developing countries working to change their lives. These loans are repaid to our KIVA account, so your donation is used many times to help different people - literally the gift that keeps on giving..

Setting aside the challenges of knitting or weaving it, if you make your own yoghurt what's your favoured method?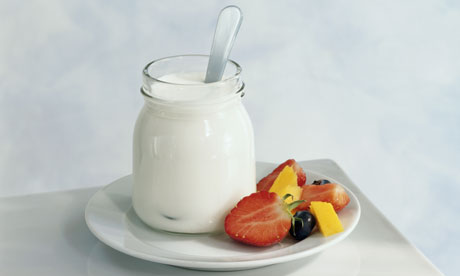 The first time I really appreciated being able to make my own
yoghurt was when I worked abroad. The milk was powdered and the yoghurts available were the slimy, artificially flavoured type. So we made yoghurt from powdered milk every day, serving it to our paying guests at breakfast time with local honey or homemade lime curd. The maker was simply an electrically heated sleeve which fitted over a plastic pot, and the results were always thick and creamy – I don't think anyone ever guessed it was made from powdered milk, and I'm not sure I could have told the difference.
Prior to this I had been singularly unimpressed with homemade yoghurt. My mother made hers from fresh goat's milk in an old Bel yoghurt maker and I wasn't very keen, the finished product being strongly reminiscent of billy goat and baby sick. The machine itself was a wieldy piece of kit, similar in shape and size to an incubator and holding individual glass pots. They're no longer manufactured but sorely missed - the internet is awash with requests for instructions for use, or blogposts talking about freecycle or
charity shop finds
.
I recently read up on
other methods
of making yoghurt; in a vacuum flask, a slow cooker or low oven, the summer sun, atop a radiator in winter, on a heat pad, or simply in a bowl in the airing cupboard. All of these sound tricky in terms of keeping the temperature correct and constant so I plumped for
Lakeland's electric model
- simplicity itself to start using, but much harder to master.
My first batch, made with full fat organic milk and some live yoghurt as a starter tasted OK, but had an unpleasant elastic quality. The second batch, made with the addition of 2 tbsp powdered milk (recommended for producing a thicker consistency), also tasted OK, but had a grainier texture. A call to Lakeland wasn't particularly helpful, apart from the tip that a lot of people get their best results using UHT milk.
Bizarre though it may sound, this worked for me too and I made a lovely, smooth textured yoghurt with Moo Organic UHT and milk powder. However, I wasn't satisfied – I wanted the same results with unhomogenized whole milk. Fortunately, Harold McGee came to the rescue and I found that heating the milk to 90˚C for 10 minutes made much firmer yoghurt.
One thing still confused me, however. The romantic in me loves an idea put forward by a familial anecdote in Arto de Haroutunian's wonderful
The Yoghurt Book
.
Yoghurt starter, like sourdough starter, can be apparently be kept going indefinitely, from one generation to the next. However, the
general consensus online
is that you will eventually need to start again (even after about 6 weeks), as the results will get thinner. I haven't been making yoghurt from the same batch of starter long enough to be able to tell yet, but I'm intrigued to find out.
Like Nigel Slater
I'm not convinced I'm saving much money, particularly when I am reducing the volume of my yoghurt by
straining for labneh
or following his advice and adding single cream for a thicker yoghurt. Economising isn't really the point, though.
Making my own has made me experiment more – I love
yoghurt and vegetable combinations
, have discovered the tenderising properties of yoghurt
marinades
, such as in my
mother-in-law's version of raan masaledaar
and feed our household's garlic addiction with tzatziki. I cool fierce curries either with raita or drinks such as lassi or a carbonated version of
ayran
. I've made variations of what has to be the
simplest ever cake
and have vowed this summer to see if I can overcome a lifelong aversion to frozen yoghurt.
If you make your own, do you use a yoghurt maker or a more esoteric method? Can you shed any light on how long a starter can be kept going, and regardless of whether or not you make your own, how do you enjoy yoghurt?
http://www.guardian.co.uk/lifeandstyle/wordofmouth/2011/jan/05/yoghurt-yogurt-making
................................................................................................................................
Paradise Papercraft
Etsy shop
This is one thing I have never mastered; I do not have yoghurt-fu and I admit I do the easy thing of making Easi-Yo with their thermos-type system. It does however make a fair bit of yoghurt for us and I do think it saves money and cuts down on waste. I only need to make it when child asks for "Pooh-bear yoghurt" (yoghurt with honey on the top) rather than wait till I can do a shop and then he's lost his taste for it.

My mum was better at the yoghurt making - she made it with a culture in a very old hand-me-down ceramic bowl, warmed in the oven. My sis and I would hardly wait for it to cool down before we'd eat the whole bowl with frozen raspberries from our grand-dad's garden. I have tried and tried to make that work and failed miserably, go figure.

In theory the culture would work in the easi-Yo container thing I have but, again, I haven't figured out how to make it work yet. So it's packet yoghurt for us (weird as that is)

Hathorite




Posts

: 379


Join date

: 2010-08-18



I make youhurt and have settled on using a wide necked thermos scalded out, Moo organic uht milk plus a bit of powder when I have it, "brewing" time then straining through boiled cheesecloth if I want it a bit firmer.

I have not noticed the starter dying off, I tend to make more in the summer and have kept some going for several months, but probably no longer than 8 weeks so not sure about that bit tbh.

Funilly enough I also made butter today which is even easier to do....! If a bit of a faff. The end results are delish, though!

Compostwoman




Posts

: 5689


Join date

: 2009-11-08



I make my own. I started out experimenting with cleaned jars and a cardboard box filled with a layer of insulation (I think it was old cushions!). Warm the milk, stir in some live yogurt, pot up, cover & leave overnight. Seemed to work ok for me.

I still use the same basic 'recipe' but I've moved on a bit now and ditched the jars on favour of a couple of old easi-yo containers with their inserts (they're often to be found in charity shops & are generally quite cheap). I find them quick and easy to use because everything's self contained, they don't take up much space or need a plug and the outer part is thermal and the liners fit snugly. All you do is top them up with boiling water screw on the lid and leave it. If I want a thicker yogurt, I just blend some milk powder into the milk before I start, then add the live yogurt culture.

We have ours with rosehip syrup and though I say so myself it's really delicious......



................................................................................................................................
Chi vo far 'na bona zena magn'un erb d'tut la mena
Ooh CoW, rosehip syrup and yoghut sounds really nice!

I make mine with a thermos and am all for simplicity, so use powdered milk and boiled water cooled down to ... off top of head I think it's 110 degrees C. Just dissolve milk in water and add yoghurt and stick in thermos for 4+ hours. It comes out nice and thick, if a little stringy or elasticky, but I don't mind this.

My only thing, as I've said before, is that I want to do it full fat and organic and I've yet to find a supplier of full fat organic milk powder.
Badger wrote:

Making my own has made me experiment more – I love yoghurt and vegetable combinations
My favourite thing to do with my home made yoghurt is to finely chop some cucumber and mix it through, add a little salt, toasted mustard seeds and cumin, and finish off with some sweet (smidge) paprika......divine!! when I make this to go with curry I can tell you I eat more of the yoghurt than the curry!!

boobiejuicemama




Posts

: 240


Join date

: 2010-05-29


Age

: 42


Location

: Sunshine State - Queensland




boobiejuicemama




Posts

: 240


Join date

: 2010-05-29


Age

: 42


Location

: Sunshine State - Queensland



wow BJM, that sounds lovely! Thanks for the recipe

That's basically the same system as my old Easi-yo containers BJM. They're great and if you keep your eyes peeled at bootfairs & charity shops you'll often find them - most have hardly been used, if at all.
I think peeps start out with loads of good intentions (as you do, at the beginning of the New Year) but don't realise that you really don't
need
to purchase that pricy powdered stuff to make yog. in them so they get ditched (bonus for me!).


................................................................................................................................
Chi vo far 'na bona zena magn'un erb d'tut la mena
chickenofthewoods wrote:That's basically the same system as my old Easi-yo containers BJM. They're great and if you keep your eyes peeled at bootfairs & charity shops you'll often find them - most have hardly been used, if at all.
Yep it is Easi-Yo

I didn't mention the brand in case of confusion. I got my first one brand new, but my two subsequent ones were both second hand, but you are right, I don't think they were used at all!

boobiejuicemama




Posts

: 240


Join date

: 2010-05-29


Age

: 42


Location

: Sunshine State - Queensland



I've had my Easy Yo for nearly 15 years now. I have fads where I make it for a few months then go off of it. Think I'll get a few sachets when I shop tomorrow and make some though. The littlies are wanting more and more and by making it rather than buying I'm at least saving $1/kg.
About 5 years ago I went through a stage of making my own fancy yoghurt. We had recently had one of those gourmet youghurt bars istalled at the local shopping center. I loved the stuff but as a single mother bakc then I couldn't afford it all the time.
So I'd either make my own vanillo yoghurt or buy it if it was cheap enough. Add some diced apple, sultanas some homebrand untaosted muesli and soem cinnamon. Was sooo yummy!
................................................................................................................................
My crochet doilies and craft shop blog
Lime Tree Creations
My personal Scrapbooking blog
Beccis Scrap Journal

---
Permissions in this forum:
You
cannot
reply to topics in this forum