Who is online?
In total there are
4
users online :: 0 Registered, 0 Hidden and 4 Guests
None
Most users ever online was
62
on 10th April 2015, 8:24 am
Latest topics
»
Excellent publication
by
Dandelion
18th October 2017, 5:07 pm
»
What are you harvesting today?
by
Dandelion
16th October 2017, 9:26 pm
»
New arrivals
by
FloBear
16th October 2017, 5:54 pm
»
What have I done in the workshop today?
by
Chilli-head
15th October 2017, 8:46 pm
»
Masaledar Sem (spicy green beans)
by
freebird
15th October 2017, 8:08 pm
»
Autumn planting vegetables
by
freebird
7th October 2017, 12:58 pm
»
Greek village bread
by
Chilli-head
5th October 2017, 1:57 pm
»
Passata machine
by
Ploshkin
4th October 2017, 12:21 pm
»
Wrapping up in the October garden
by
freebird
3rd October 2017, 8:28 pm
»
No-dig gardening & weed control
by
Ploshkin
3rd October 2017, 2:22 pm
»
Bad press for woodburners
by
freebird
29th September 2017, 7:20 pm
»
Reflections on the seaon 2017
by
freebird
28th September 2017, 9:35 pm
»
The September garden
by
FloBear
21st September 2017, 8:59 pm
»
Wildlife cameras
by
FloBear
9th September 2017, 11:53 am
»
whats on the menu
by
Dandelion
5th September 2017, 10:10 pm
»
Insect hotel
by
FloBear
31st August 2017, 10:07 pm
»
seed saving
by
freebird
29th August 2017, 1:49 pm
»
Argh - how do you grow lettuce ?
by
Ploshkin
26th August 2017, 9:40 pm
»
Knitting in the round
by
FloBear
19th August 2017, 1:41 pm
»
What happened to the garden in August ?
by
freebird
19th August 2017, 12:24 pm
Statistics
We have
633
registered users
The newest registered user is
domestic
Our users have posted a total of
44794
messages in
2328
subjects
Donate to our Charity
The Homemade life supports Kiva - microloans for people in developing countries working to change their lives. These loans are repaid to our KIVA account, so your donation is used many times to help different people - literally the gift that keeps on giving..
Linky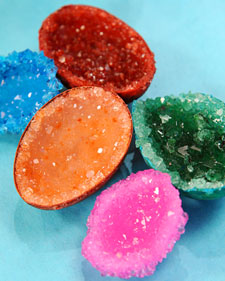 Tools and Materials
Blown-out eggshell (Get the How-To)
Alum powder
White glue
Small paintbrush
Plastic or glass container
Egg dye
Hot water
Craft stick or spoon
Latex gloves
Drying rack or newspaper
Crystal Egg Geode How-To
1. Start by blowing out a large white chicken egg (Get the How-To) and splitting it in half, lengthwise. The egg can be cracked by striking it against a surface or cut with a small pair of scissors. Make sure the inside of the eggshell is clean and dry.
2. With a small paintbrush, apply white glue to the inside and cracked edges of each half of the eggshell and sprinkle with alum powder until completely coated. Set eggshell halves aside to dry overnight.
3. The next day, prepare your growing solution in a glass or plastic container by using a craft stick or spoon to mix 2 cups of very hot water (almost boiling) with an entire packet of powdered egg dye. Be sure to wear latex gloves to protect your hands from the dye. (Tip: Liquid food coloring can also be used to dye the geode -- 30 to 40 drops will adequately saturate the solution.)
4. Add 3/4 cup of alum powder to the hot dye bath and stir until completely dissolved. If there are remaining crystals in the bottom of the container, place the solution in the microwave for a few minutes to dissolve them. This will prevent alum from being drawn away from the geode.
5. Once the alum is completely dissolved, let the solution cool slightly (for about 30 minutes) and then submerge one of the dried, alum-coated eggshells in the growing solution, allowing it to rest on the bottom of the container with the inside of the shell facing up.
6. Set the container aside in a safe place overnight to allow the crystals to grow undisturbed. (Tip: The longer the eggshell is in the solution, the larger the crystals in the geode will be. Twelve to 15 hours will usually result in a perfect geode.)
7. The next day, remove the geode from the growing solution very carefully (as wet crystals are quite fragile), being sure to wear latex gloves to prevent the dye from staining your hands. (Tip: If you are not satisfied with the size of your geode crystals, return the geode to the growing solution and wait a day or two. As water evaporates from the solution, more alum will be deposited in your geode, increasing the size of the crystals.)
8. Place your geode on a drying rack or newspaper and allow to dry completely before handling.
9. To grow a second geode in the other half of the eggshell, simply re-dissolve the crystals remaining at the bottom of the growing solution in the microwave and follow the instructions above starting at step 5.
Additional Tips
Geodes can be grown without using egg dye. The resulting crystals are clear to milky white, like quartz.
While large chicken eggshells are suggested in this process, larger eggshells can be used. Simply increase the size of the plastic or glass container and double or triple the amounts of dye (1 packet), alum (3/4 part), and water (2 parts) used to create the growing solution.
Resources
If you don't want to blow your own egg or would like to try a larger eggshell, pre-blown shells are available from The Eggery Place. Alum is available at most grocery or drug stores but can also be purchased online from Talas. Powdered egg dye is available from Surma: The Ukranian Shop.
Ready-made Crystal Egg Geode kits available from Professor Figgy's Fabulous Science Kits at professorfiggy.com.
Via Martha Stewart.com.
................................................................................................................................
Paradise Papercraft
Etsy shop

................................................................................................................................
No one can make you feel inferior without your consent.
Elenor Roosevelt


] Enjoy every second of your life, because time races by so much quicker than you think...

So take care of yourself, be Happy, Love Deeply and enjoy life!




polgara

Homemade Moderator




Posts

: 3029


Join date

: 2009-11-16


Age

: 71


Location

: Sunshine Isle



Akin to the process of making Rock Candies. Except you wouldn't want to eat it, lol.

mr_sfstk8d




Posts

: 584


Join date

: 2010-12-01


Age

: 40


Location

: Peoria, IL, US




Similar topics
---
Permissions in this forum:
You
cannot
reply to topics in this forum