Who is online?
In total there is
1
user online :: 0 Registered, 0 Hidden and 1 Guest
None
Most users ever online was
62
on 10th April 2015, 8:24 am
Latest topics
»
Two minute beach clean
by
FloBear
Yesterday at 10:10 am
»
Irish Wheaten Bread
by
Ploshkin
13th December 2017, 1:42 pm
»
What arts and craft things have you been making lately?
by
Dandelion
11th December 2017, 5:31 pm
»
What have I done in the workshop today?
by
Ploshkin
9th December 2017, 6:23 pm
»
What are you harvesting today?
by
Ploshkin
9th December 2017, 1:52 pm
»
Best before ...
by
FloBear
8th December 2017, 2:28 pm
»
Armchair gardening in December
by
freebird
4th December 2017, 11:11 pm
»
Autumn sowing in the November Garden
by
Ploshkin
3rd December 2017, 3:46 pm
»
Seed Banks and reliable suppliers
by
Chilli-head
19th November 2017, 9:05 pm
»
No-dig gardening & weed control
by
freebird
17th November 2017, 5:10 pm
»
Homemade onion sets
by
freebird
17th November 2017, 7:50 am
»
New arrivals
by
FloBear
5th November 2017, 4:26 pm
»
Wrapping up in the October garden
by
freebird
30th October 2017, 12:41 pm
»
Excellent publication
by
Dandelion
18th October 2017, 5:07 pm
»
Masaledar Sem (spicy green beans)
by
freebird
15th October 2017, 8:08 pm
»
Autumn planting vegetables
by
freebird
7th October 2017, 12:58 pm
»
Greek village bread
by
Chilli-head
5th October 2017, 1:57 pm
»
Passata machine
by
Ploshkin
4th October 2017, 12:21 pm
»
Bad press for woodburners
by
freebird
29th September 2017, 7:20 pm
»
Reflections on the seaon 2017
by
freebird
28th September 2017, 9:35 pm
Statistics
We have
631
registered users
The newest registered user is
dreamcb77
Our users have posted a total of
44944
messages in
2335
subjects
Donate to our Charity
The Homemade life supports Kiva - microloans for people in developing countries working to change their lives. These loans are repaid to our KIVA account, so your donation is used many times to help different people - literally the gift that keeps on giving..
Hi, I thought I would share a nice treat and value added component to having rabbits.
Home made dog treats!
I start with a fresh rabbit hide. Wash it really well and wrap it in a zip lock bag and set it in the fridge for a couple of weeks and then test it. If the fur doesn't slip off easily just put it back in the bag and leave it a few more days. Having only done this once I am not totally sure how long it takes the fur to slip so will be trying a few more and keeping better notes.
But once the fur starts to slip just rub off all that you can. The picture is a hide that most of the fur came off of easily.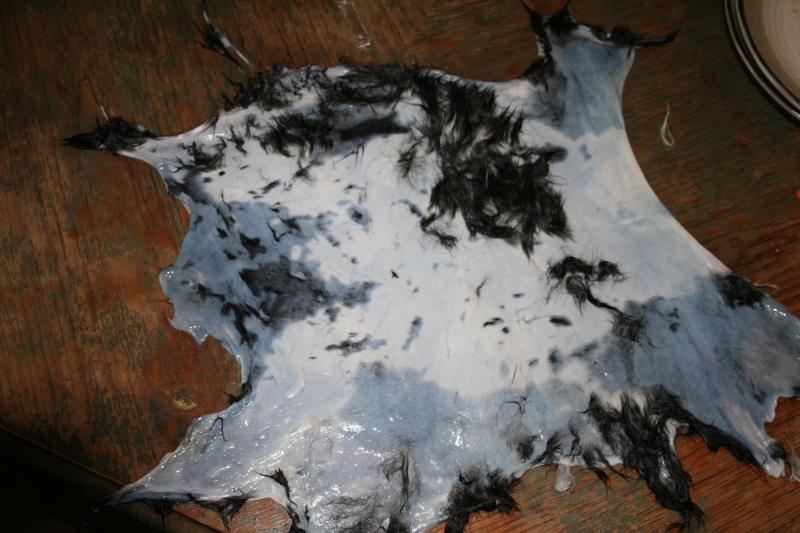 Then I cut the hide - no picture as my camera decided to act up that day - into short strips. About 2 inches by 5 inches. I could have just as easily dried the entire hide and given her that but cut in to bits it lasts longer.
Then I put them onto a cookie sheet and popped them into a slow oven.
Five hours later they were nice and crispy. After about an hour I had to unstick them from the pan but that was the only tending they got.
Yes, the treats look frightful, all furry and strange but my dog LOVES them!
Rabbit ears also dry a treat and we never throw them away anymore.
The fur can be used for felt making but I havnt yet gotten that far


................................................................................................................................
Laugh and the world laughs with you, laugh hysterically, for no apparent reason, and they'll leave you alone!

The Gods answer all our prayers. Unfortunately, sometimes, the answer is no!

"When in doubt, choose to live!"

GB

Homemade Moderator




Posts

: 3156


Join date

: 2009-11-14


Location

: Georgia




Similar topics
---
Permissions in this forum:
You
cannot
reply to topics in this forum