Who is online?
In total there are
3
users online :: 0 Registered, 0 Hidden and 3 Guests
None
Most users ever online was
62
on 10th April 2015, 8:24 am
Latest topics
»
What are you harvesting today?
by
Dandelion
Yesterday at 10:11 pm
»
Seed Banks and reliable suppliers
by
Chilli-head
19th November 2017, 9:05 pm
»
No-dig gardening & weed control
by
freebird
17th November 2017, 5:10 pm
»
Homemade onion sets
by
freebird
17th November 2017, 7:50 am
»
Autumn sowing in the November Garden
by
Chilli-head
8th November 2017, 12:10 pm
»
What arts and craft things have you been making lately?
by
FloBear
6th November 2017, 7:11 pm
»
New arrivals
by
FloBear
5th November 2017, 4:26 pm
»
Wrapping up in the October garden
by
freebird
30th October 2017, 12:41 pm
»
Excellent publication
by
Dandelion
18th October 2017, 5:07 pm
»
What have I done in the workshop today?
by
Chilli-head
15th October 2017, 8:46 pm
»
Masaledar Sem (spicy green beans)
by
freebird
15th October 2017, 8:08 pm
»
Autumn planting vegetables
by
freebird
7th October 2017, 12:58 pm
»
Greek village bread
by
Chilli-head
5th October 2017, 1:57 pm
»
Passata machine
by
Ploshkin
4th October 2017, 12:21 pm
»
Bad press for woodburners
by
freebird
29th September 2017, 7:20 pm
»
Reflections on the seaon 2017
by
freebird
28th September 2017, 9:35 pm
»
The September garden
by
FloBear
21st September 2017, 8:59 pm
»
Wildlife cameras
by
FloBear
9th September 2017, 11:53 am
»
whats on the menu
by
Dandelion
5th September 2017, 10:10 pm
»
Insect hotel
by
FloBear
31st August 2017, 10:07 pm
Statistics
We have
635
registered users
The newest registered user is
lrover
Our users have posted a total of
44877
messages in
2331
subjects
Donate to our Charity
The Homemade life supports Kiva - microloans for people in developing countries working to change their lives. These loans are repaid to our KIVA account, so your donation is used many times to help different people - literally the gift that keeps on giving..
Sometimes those little electric propagators from the garden centre just aren't up to the job, and you need something bigger !  This is how I do it.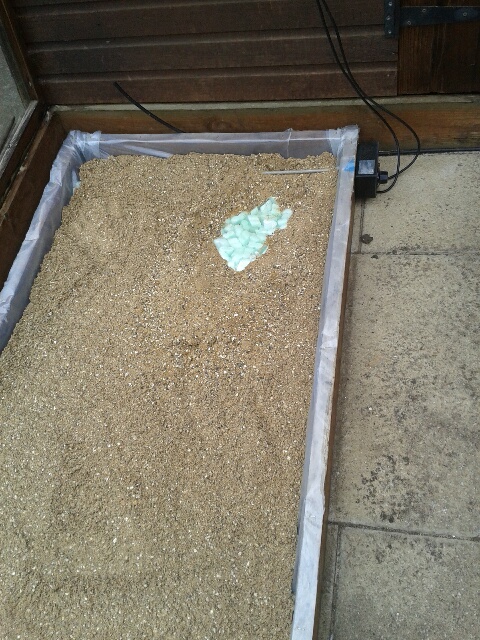 The floor of my greenhouse is paving slabs.  Onto that I put a wooden frame, open bottomed, made out ot planks of wood on edge screwed together.  Think a bit like what many allotmenteers might call a raised bed !  Then I line it with polythene,  put a layer of polystyrene chip packaging in that, then put on another layer of polythene, then a 1" layer of sand.  I've pushed aside a bit of the sand here so that you can see the insulating layer underneath - my polystyrene chips came packing electronics so they are green anti-static ones !  At the top right you can see where I've fitted in a rod thermostat.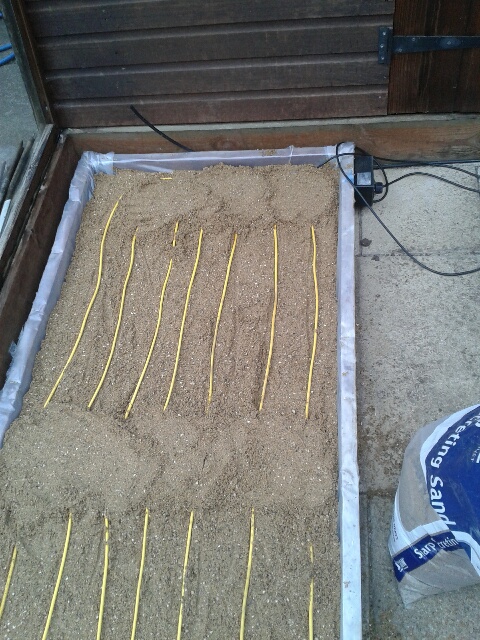 Then I lay out a soil warming cable on top of that; it is controlled by the rod thermostat.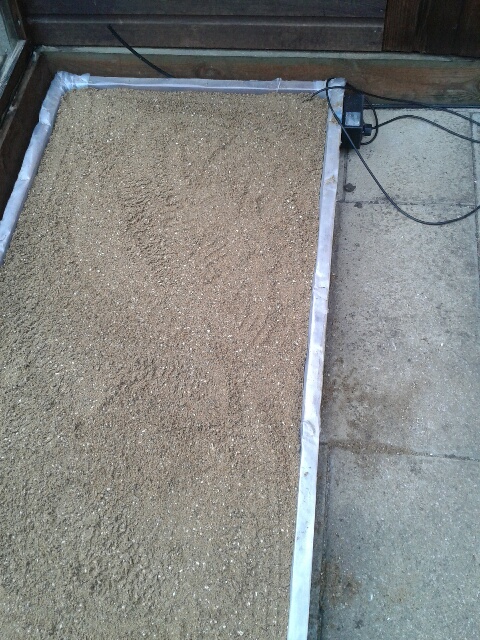 Then cover this cable with another 1" layer of sand:
Over the top of this heated bed goes a lid.  This is made from aluminium extrusion that was once part of rather dodgy secondary double glazing in our house, some rescued twinwall polycarbonate roofing sheet, and some angle brackets made from an old door kick plate.
Now, I know that it uses electricity, but not all that much; the cable is only rated at 240W. Heating from below seems to work quite efficiently. The sand is cheap concreting sand from the builders merchant, and will be good for 2 or 3 years use before I re-use it at the allotment where my carrots will go. The materials - wood from an old lab bench top, polythene, polystyrene packing, roofing sheet, metal parts etc are all reused scrap.
Once the plants outgrow this propagator, the lid will pack away (it comes apart by undoing a few screws) and my tomatoes will then grow on using ring culture on this heated bed, which I'll leave on at 10C to protect from frost.

Chilli-head

Admin and Boss man




Posts

: 2379


Join date

: 2010-02-23


Location

: Bedfordshire



Impressive CH. I don't have electricity running to my greenhouse, so starting off plants is always musical chairs, with them starting in the propagator in my calligraphy studio.

freebird




Posts

: 1561


Join date

: 2011-10-19


Age

: 61


Location

: South East England



Wow! Thanks for the pics CH. It is great what one can do with a few odds and ends!

TamaraNicole




Posts

: 99


Join date

: 2014-04-23


Age

: 33


Location

: Switzerland



You've got me thinking now about a redundant aluminium cold frame that needs re glazing.

How does the bottomless pot thing work? Do the roots grow down into the sand & if they do don't they foul up the cable? I've only ever used bottomless pots on a growbag to give tomatoes more root capacity.

Ploshkin




Posts

: 1095


Join date

: 2013-07-18


Location

: Mid Wales



The bottomless pots, or ring culture is not a new idea.  The basis is that tomatoes absorb nutrients through fairly shallow roots, whilst the deeper roots seek out water.  This makes sense to me as the shallow roots would be near to decaying organic matter, but deeper roots would find water in drier conditions.

So, I use a a bottomless container of about 15L of compost to plant into,  sitting on the sand.  Feed goes in the top, and water on the sand.  The roots do get down to where the cable is, but by then it is not in use and the roots don't do it any harm.

Perhaps I should add some more pictures at planting out time.

Chilli-head

Admin and Boss man




Posts

: 2379


Join date

: 2010-02-23


Location

: Bedfordshire



I was wondering if the heated cable was an essential part of the growing process but I can see that you did actually explain in your original post - I really should read things properly.  I've never really thought about which roots do what but it is logical and the instructions for growpots (that I use with grow bags) say to water in the outer ring and put feed in the inner pot but idle me has never thought to question why.
I was looking last year for an alternative to using growpots or bottomless pots on fat grow bags, mainly because of the annual cost of the bags.  Do tomatoes need any special or different treatment if the pots are on a bed of sand?  If I needed to be too organised or scientific in my treatment of them I know it just wouldn't happen but might it be an alternative way of growing?  I could try a couple.  I experimented with self watering pots last year but wasn't overly impressed with the results that they gave me.  I will use them for a different crop this year.

Ploshkin




Posts

: 1095


Join date

: 2013-07-18


Location

: Mid Wales



My old dad is a bit of a heirloom tomato fan.  I think he has tried every growing system there is, short of hydroponics.

Initially he grew them in border soil in the greenhouse until (inevitably ?) he ran into disease build up problems.  Then he tried digging out the beds and replacing the soil with steam sterilised soil each year.  This was a gigantic effort,  so next he tried using spent mushroom compost - and ended up with more mushrooms than tomatoes ! Next came a system where you set up straw bales instead of soil,  spread on a chemical cocktail (potassium nitrate,  magnesium sulphate and iron sulphate I think).  The bales start to decompose quickly and hot up like a hotbed.  You then make holes on the top of the bales and plant your tomatoes in them.  The problem here is that the height of the bales reduces the height of the plants before they hit the roof.

Then he tried ring culture, with bottomless pots (rings of roofing felt stapled together).  Then growbags (too shallow), growbags cut in half and stood on end. Now he uses those flower buckets you can get for nothing or next to nothing from co-op etc, filled with growbag compost.  I've rather lost track of what worked the best ... it has to be said he is not an organic grower, which might mean some of his methods would not suit me.  I also have a rather lower greenhouse roof than he does, so the really deep flower buckets might not be so good for me - I need all the vertical space I can to get in 4-5 trusses of fruit before they hit the roof !

Chilli-head

Admin and Boss man




Posts

: 2379


Join date

: 2010-02-23


Location

: Bedfordshire




Similar topics
---
Permissions in this forum:
You
cannot
reply to topics in this forum