Who is online?
In total there is
1
user online :: 0 Registered, 0 Hidden and 1 Guest
None
Most users ever online was
62
on 10th April 2015, 8:24 am
Latest topics
»
No-dig gardening & weed control
by
freebird
17th November 2017, 5:10 pm
»
Homemade onion sets
by
freebird
17th November 2017, 7:50 am
»
What are you harvesting today?
by
Dandelion
11th November 2017, 10:48 pm
»
Autumn sowing in the November Garden
by
Chilli-head
8th November 2017, 12:10 pm
»
What arts and craft things have you been making lately?
by
FloBear
6th November 2017, 7:11 pm
»
New arrivals
by
FloBear
5th November 2017, 4:26 pm
»
Wrapping up in the October garden
by
freebird
30th October 2017, 12:41 pm
»
Seed Banks and reliable suppliers
by
Dandelion
26th October 2017, 2:16 pm
»
Excellent publication
by
Dandelion
18th October 2017, 5:07 pm
»
What have I done in the workshop today?
by
Chilli-head
15th October 2017, 8:46 pm
»
Masaledar Sem (spicy green beans)
by
freebird
15th October 2017, 8:08 pm
»
Autumn planting vegetables
by
freebird
7th October 2017, 12:58 pm
»
Greek village bread
by
Chilli-head
5th October 2017, 1:57 pm
»
Passata machine
by
Ploshkin
4th October 2017, 12:21 pm
»
Bad press for woodburners
by
freebird
29th September 2017, 7:20 pm
»
Reflections on the seaon 2017
by
freebird
28th September 2017, 9:35 pm
»
The September garden
by
FloBear
21st September 2017, 8:59 pm
»
Wildlife cameras
by
FloBear
9th September 2017, 11:53 am
»
whats on the menu
by
Dandelion
5th September 2017, 10:10 pm
»
Insect hotel
by
FloBear
31st August 2017, 10:07 pm
Statistics
We have
634
registered users
The newest registered user is
mailedusentials
Our users have posted a total of
44868
messages in
2331
subjects
Donate to our Charity
The Homemade life supports Kiva - microloans for people in developing countries working to change their lives. These loans are repaid to our KIVA account, so your donation is used many times to help different people - literally the gift that keeps on giving..
Feels like I've not posted any treen for a while - I've been too busy with other things.  Last weekend we met at Wimpole, and having turned the front legs for my ladderback chair - the last components - I found myself with some time to spare so thought I'd try a first for me, a porringer.  This is a small bowl with horizontal handles.  I've seen some rather lovely ones by Robin Wood .  There was some largish logs of Alder to go at.  Alder can supply a range of colour dyes; red and yellow from the bark, and black if the tannin of the wood reacts with iron, so I expected perhaps an interesting result.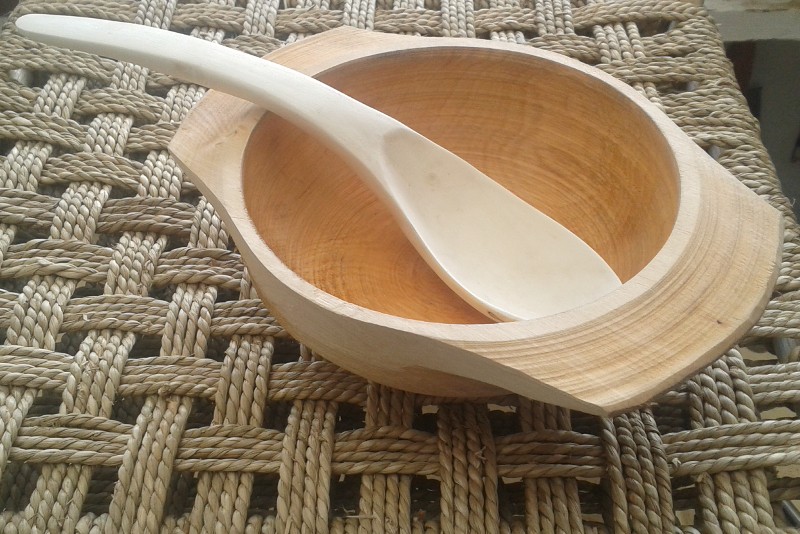 A tricky turning job. ...  mine has a few warts; the alder was a tricky wood to turn without lifting and tearing out the grain.  Also the blank is not round; the width of the log is the size of the bowl part, but it is cut off longer than it is wide to provide material for the handles.  That means that in turning the handles, the hook tool can't stay with the bevel always in contact with the workpiece,  making catches easily acheived and requiring a very light touch.  The "flange" left on the bowl was trimmed with axe and spokeshave to the final shape  of the handles.
The weekend before I picked up some wood waste for firewood; it was prunings from a large contorted willow.  I'm not really much of a spoon carver, but splitting one of the spiral shaped branches down the middle produced a shape that begged to be made into something.  Pity I didn't realise I was making a left handed one !

Chilli-head

Admin and Boss man




Posts

: 2377


Join date

: 2010-02-23


Location

: Bedfordshire



As always, CH, that is just beautiful and why shouldn't it have a left handed spoon. You could make a unique set from your willow prunings.

Ploshkin




Posts

: 1094


Join date

: 2013-07-18


Location

: Mid Wales



What lovely work CH. And so very interesting to hear about the wood and the making process. LH spoon good in my book. My OH is a leftie.

FloBear




Posts

: 395


Join date

: 2015-02-10


Location

: East Dorset



I love the spoon too - little versions, with bend either way, would be great for little hands. Seems just the right shape for a baby/toddler wanting to feed itself.

freebird




Posts

: 1559


Join date

: 2011-10-19


Age

: 61


Location

: South East England



Beautiful - I particularly like the handles on the bowl. Very clever.

................................................................................................................................
The richer we have become materially, the poorer we have become morally and spiritually. We have learned to fly in the air like birds and swim in the sea like fish, but we have not learned the simple art of living together as brothers and sisters.

-Martin Luther King, Jr.

Dandelion

Admin




Posts

: 4533


Join date

: 2010-01-17


Age

: 61


Location

: Ledbury, Herefordshire



FloBear wrote: And so very interesting to hear about the wood and the making process.
The traditional uses of wood and the reasons why I find quite interesting. Alder has a variety of uses - as well as tannin for leather making and pigments, like willow it also contains the anti-inflammatory salicin. It has been valued for making guitar bodies (notably the Fender Stratocaster). However, one other traditional use was making charcoal for gunpowder. I presume the structure of the charcoal it makes allows it to be mixed very intimately with the other ingredients, which is the secret to a potent black powder.

Chilli-head

Admin and Boss man




Posts

: 2377


Join date

: 2010-02-23


Location

: Bedfordshire




Similar topics
---
Permissions in this forum:
You
cannot
reply to topics in this forum