Who is online?
In total there is
1
user online :: 0 Registered, 0 Hidden and 1 Guest
None
Most users ever online was
62
on 10th April 2015, 8:24 am
Latest topics
»
No-dig gardening & weed control
by
freebird
17th November 2017, 5:10 pm
»
Homemade onion sets
by
freebird
17th November 2017, 7:50 am
»
What are you harvesting today?
by
Dandelion
11th November 2017, 10:48 pm
»
Autumn sowing in the November Garden
by
Chilli-head
8th November 2017, 12:10 pm
»
What arts and craft things have you been making lately?
by
FloBear
6th November 2017, 7:11 pm
»
New arrivals
by
FloBear
5th November 2017, 4:26 pm
»
Wrapping up in the October garden
by
freebird
30th October 2017, 12:41 pm
»
Seed Banks and reliable suppliers
by
Dandelion
26th October 2017, 2:16 pm
»
Excellent publication
by
Dandelion
18th October 2017, 5:07 pm
»
What have I done in the workshop today?
by
Chilli-head
15th October 2017, 8:46 pm
»
Masaledar Sem (spicy green beans)
by
freebird
15th October 2017, 8:08 pm
»
Autumn planting vegetables
by
freebird
7th October 2017, 12:58 pm
»
Greek village bread
by
Chilli-head
5th October 2017, 1:57 pm
»
Passata machine
by
Ploshkin
4th October 2017, 12:21 pm
»
Bad press for woodburners
by
freebird
29th September 2017, 7:20 pm
»
Reflections on the seaon 2017
by
freebird
28th September 2017, 9:35 pm
»
The September garden
by
FloBear
21st September 2017, 8:59 pm
»
Wildlife cameras
by
FloBear
9th September 2017, 11:53 am
»
whats on the menu
by
Dandelion
5th September 2017, 10:10 pm
»
Insect hotel
by
FloBear
31st August 2017, 10:07 pm
Statistics
We have
634
registered users
The newest registered user is
mailedusentials
Our users have posted a total of
44868
messages in
2331
subjects
Donate to our Charity
The Homemade life supports Kiva - microloans for people in developing countries working to change their lives. These loans are repaid to our KIVA account, so your donation is used many times to help different people - literally the gift that keeps on giving..
A lovely autumn day for a bit of wood turning at Wimpole yesterday.  I thought I would turn my mind to getting ahead for the festive occasion that I know may not yet be mentioned by name  as it still a long way off (*).  We will be turning at the ********* craft fair and possibly selling some things, so I wondered if I could make something a bit cute to catch the eye as a change from dibbers !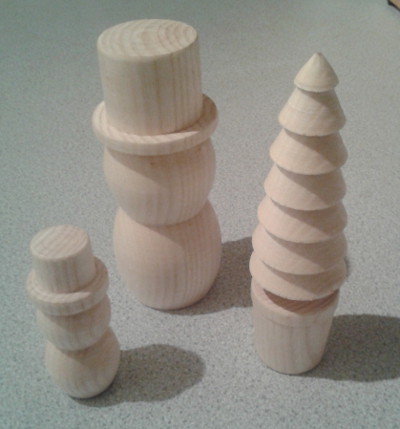 Now, opinions wanted.  I was going to make some buttons and eyes from a dark wood, and a carrot nose from Yew for my snowmen, and stain the hats black - but do you think perhaps the simplicity of leaving them as  they are might be better ?  I'm leaning that way.  It would certainly save time - but which would you like best, plain or decorated ?
(*) I got into trouble for mentioning it too early last year

 - sorry, but if I don't get a head start I always end up in a panic.  Last year I was still making chopping boards the night before !

Chilli-head

Admin and Boss man




Posts

: 2377


Join date

: 2010-02-23


Location

: Bedfordshire



I like the tree, simple and effective (simple design that is, not workmanship). I like the plain snowmen but suspect that they might be more saleable with faces. Would a plain snowman obviously be a snowman to someone if it was sat on its own without any 'seasonal' clues.

Ploshkin




Posts

: 1094


Join date

: 2013-07-18


Location

: Mid Wales



I recognized the snowmen immediately, before I had read your post, CH. But didn't work out what the tree was for a few minutes - might be down to the shadows in the photo as I thought it was a spiral.

Maybe some of each, and see what is most popular.

freebird




Posts

: 1559


Join date

: 2011-10-19


Age

: 61


Location

: South East England



I was going to suggest some of each as well

................................................................................................................................
The richer we have become materially, the poorer we have become morally and spiritually. We have learned to fly in the air like birds and swim in the sea like fish, but we have not learned the simple art of living together as brothers and sisters.

-Martin Luther King, Jr.

Dandelion

Admin




Posts

: 4533


Join date

: 2010-01-17


Age

: 61


Location

: Ledbury, Herefordshire




Similar topics
---
Permissions in this forum:
You
cannot
reply to topics in this forum