Who is online?
In total there are
2
users online :: 0 Registered, 0 Hidden and 2 Guests
None
Most users ever online was
62
on 10th April 2015, 8:24 am
Latest topics
»
What are you harvesting today?
by
Dandelion
21st June 2017, 4:30 pm
»
What are you reading now?
by
Dandelion
18th June 2017, 7:41 pm
»
What are you preserving today?
by
Dandelion
17th June 2017, 9:28 pm
»
Heat in the June garden
by
Ploshkin
14th June 2017, 9:57 pm
»
Bees Behaving Badly
by
Dandelion
2nd June 2017, 5:52 pm
»
Compost - question and answer thread
by
FloBear
1st June 2017, 9:40 am
»
The May garden - catch up time !
by
Dandelion
30th May 2017, 11:18 pm
»
What have I done in the workshop today?
by
Chilli-head
30th May 2017, 4:01 pm
»
Hugelkultur
by
Chilli-head
30th May 2017, 3:56 pm
»
This year's challenge
by
Chilli-head
30th May 2017, 3:51 pm
»
National Mills weekend
by
Chilli-head
9th May 2017, 10:33 am
»
No-dig gardening & weed control
by
Ploshkin
5th May 2017, 11:06 pm
»
April - busiest month of the gardeners year ?
by
freebird
29th April 2017, 5:34 pm
»
Amazing Hotels
by
Dandelion
17th April 2017, 3:49 pm
»
The art of enough
by
Dandelion
13th April 2017, 11:04 am
»
The Repair Shop
by
FloBear
6th April 2017, 9:10 am
»
Knitting in the round
by
Ploshkin
2nd April 2017, 6:12 pm
»
Marching into the spring garden
by
Chilli-head
30th March 2017, 8:22 pm
»
Birdbox cam
by
Chilli-head
15th March 2017, 4:04 pm
»
The Secrets of Your Food - Chillies !
by
Chilli-head
11th March 2017, 8:52 pm
Statistics
We have
631
registered users
The newest registered user is
BrendaP
Our users have posted a total of
44328
messages in
2303
subjects
Donate to our Charity
The Homemade life supports Kiva - microloans for people in developing countries working to change their lives. These loans are repaid to our KIVA account, so your donation is used many times to help different people - literally the gift that keeps on giving..
This visit was last October but I only just got round to sorting pictures. I was inspired to do so after visiting Trevor Ablett in Sheffield last week. An article on Trevor and his folders will be in the Guardian tomorrow.
Anyway this is Antonio Diaz Bermudez of Taramundi a traditional knifemaking town in Asturias. He is heating a bar of high carbon stainless steel in the forge ready to forge a blade.
The blade is formed in a single heat, maybe 15 seconds work at most, the blade is nicely tapered to reduce the amount of grinding required and the pointy bit at the end is formed, this will be sharpened and makes the grafting cut.
The blade is heated, dropped into this little holder and quenched in oil to harden the steel.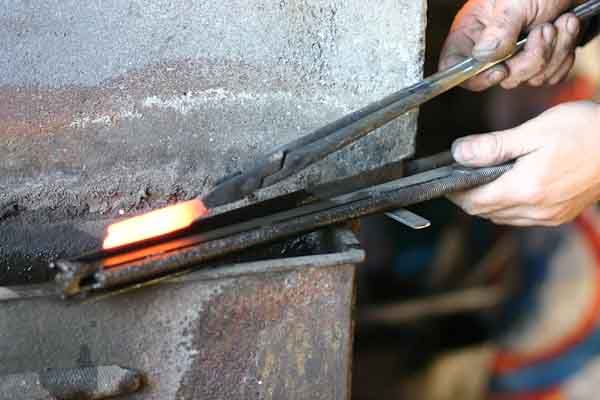 The handle is then turned on a lathe.
Next a metal collar is formed for the handle, this is a tight push fit over the handle which was turned to a conical shape.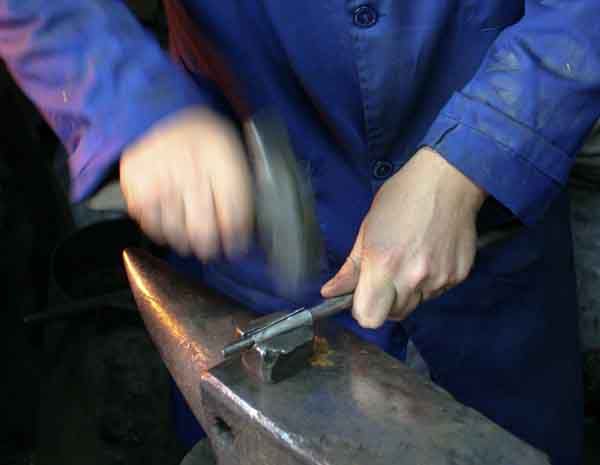 Now handle and blade are fitted together, just like the Sheffield knives the pivot point is a metal pin though unlike Sheffield knives they do not have a spring, to keep them in open or closed position, they are what are called friction folders.
At this stage there is quite a bit of handwork to get it so that it opens and closes sweetly.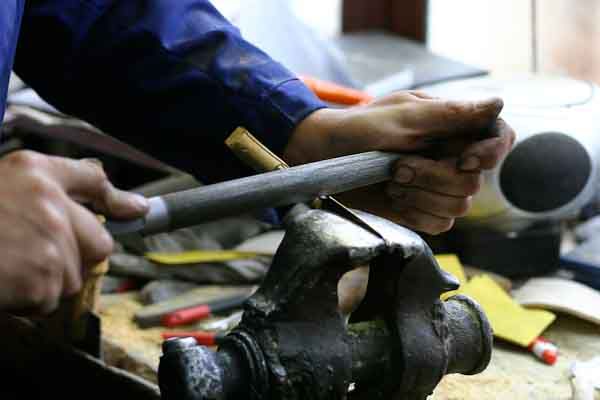 Antonio senior then grinds the bevels, first on a big water lubricated wheel, note how it is all done by feel, he does not look at the work.
A quick coat of varnish finishes the wood nicely.
Nice and sharp.
The finished knives.
This is about half the pics, the rest are on my blog here
http://greenwood-carving.blogspot.com/2010/01/folding-knives-in-spain-and-sheffield.html
Along with a discussion about the difference in support for this traditional craft in Spain and Sheffield.
Objects of beauty.

Thank you for taking the time to post all those photos.

I think I want a Spanish folding knife now.
................................................................................................................................
Paradise Papercraft
Etsy shop
Drool

How beautiful.....and as a metallurgist ( albeit many moons since I did any foundry etc work...!) I can appreciate the hard work and effort involved as well...and the sheer heat of working in that environment....

Wonderful stuff Robin, thank you for sharing those photos.

Compostwoman




Posts

: 5689


Join date

: 2009-11-08



Fantastic stuff - thanks for sharing Robin!

Mrs C

Similar topics
---
Permissions in this forum:
You
cannot
reply to topics in this forum